Table of contents
This is Ogga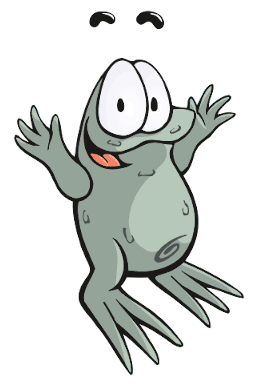 Ogga is a cane toad.
He lives on the coast in Queensland, Australia.
Ogga is the star of my comic strip: Ogga the Cane Toad which documents his adventures with his friends.
He was first drawn on St. Patrick's Day, 17 March 1994 which makes him (at the time of writing this) 28 years old! It also makes sense that he's green.
Ogga is lots of fun to draw because he gets up to some crazy things.
Let's learn more about Ogga, starting with his interests.
Ogga Loves to Go Surfing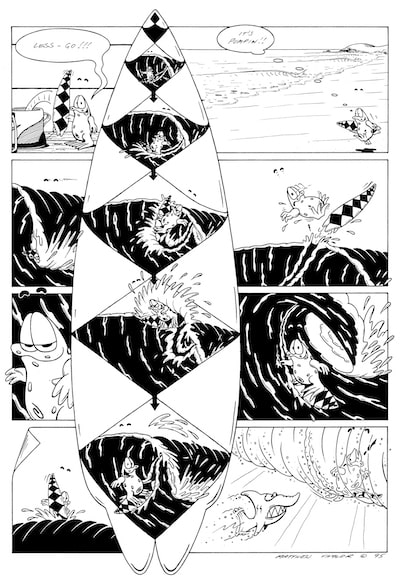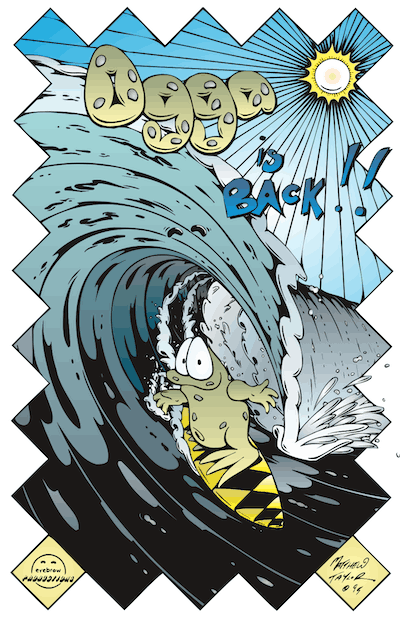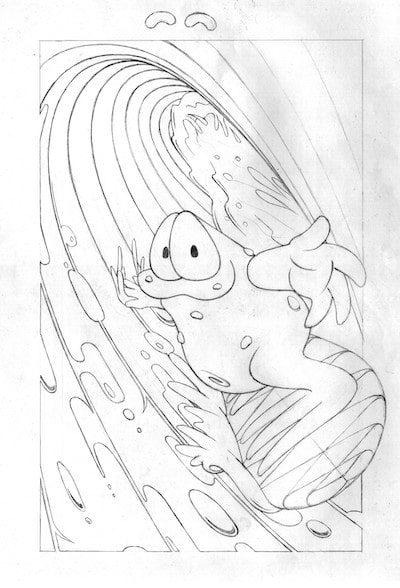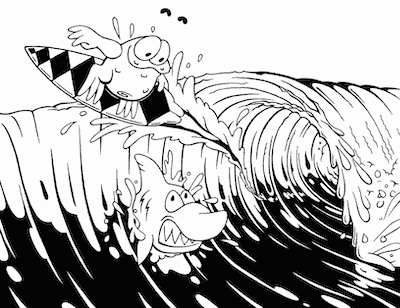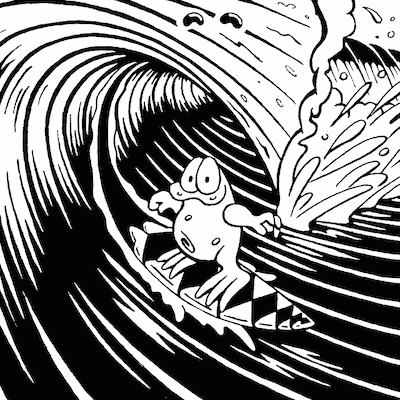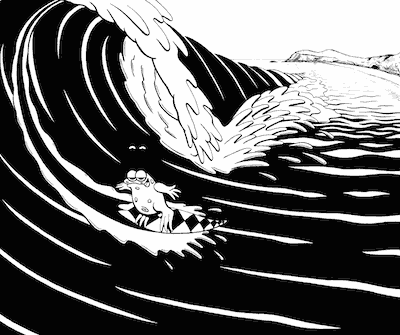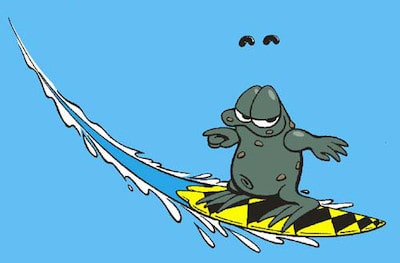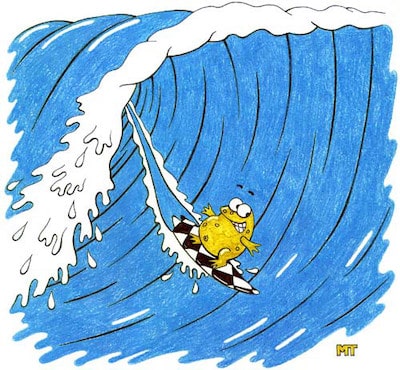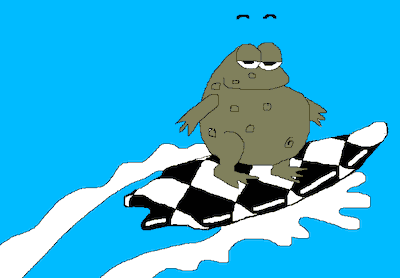 Ogga Lives in a Shoe
Like most cane toads in Queensland, Ogga lives in a shoe.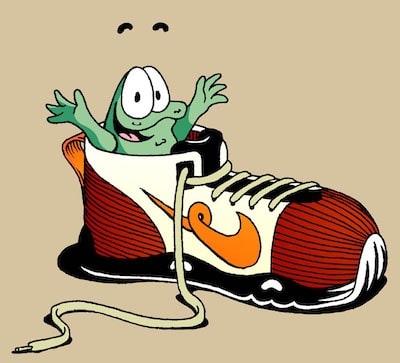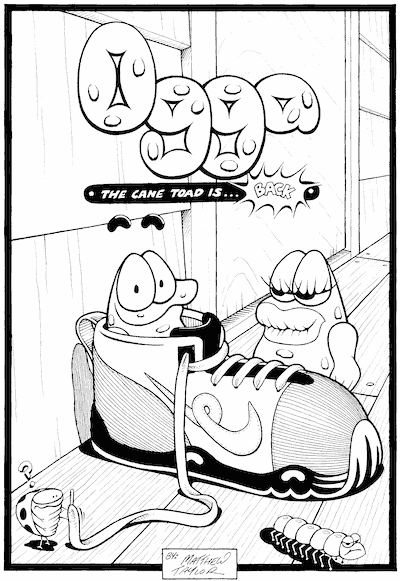 Ogga's V8 Roller Skate
Don't ask me how or why he has a V8 roller skate, but he does. It has existed in a few different forms over the years.
He steers by pulling on the laces like horse reins.
And he catches bugs to eat with the 'bug-catcher' air intake.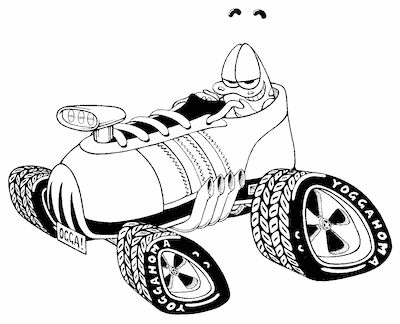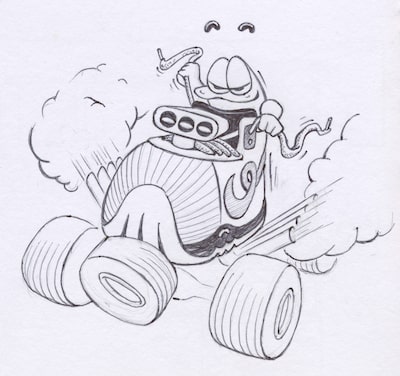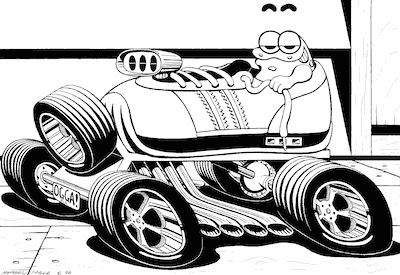 The Bugs
Ogga likes to eat the bugs. Well, he does if he can catch them!
Here are the main bug characters: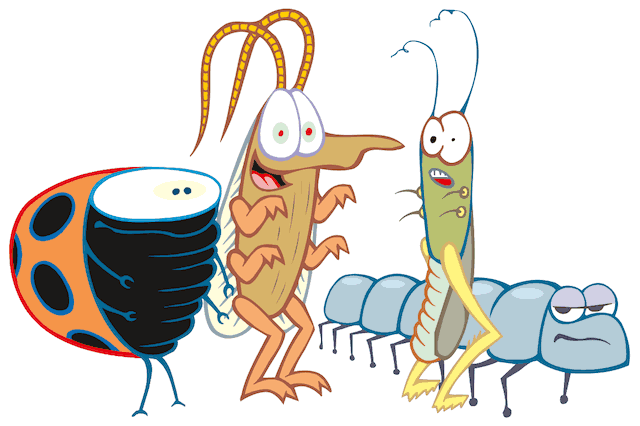 Underwater Characters
When Ogga's out surfing in the ocean he often encounters these characters: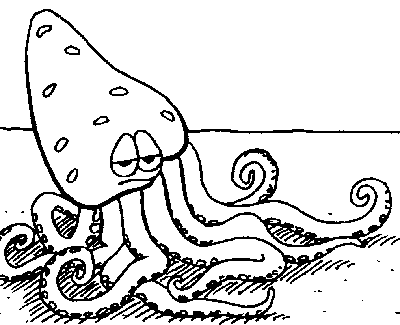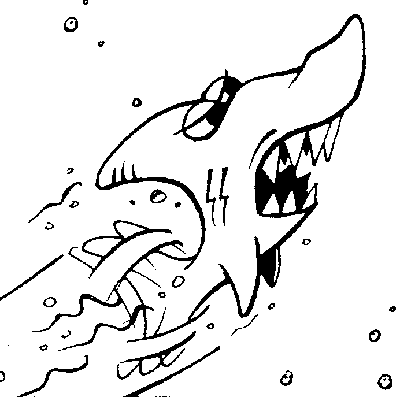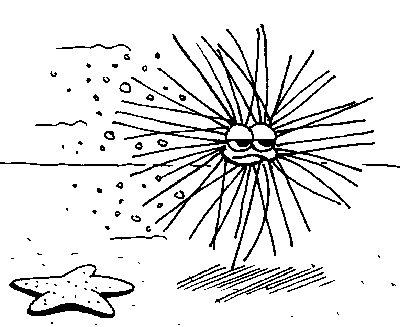 Oggette
This is Oggette, Ogga's girlfriend. She's beautiful... for a cane toad!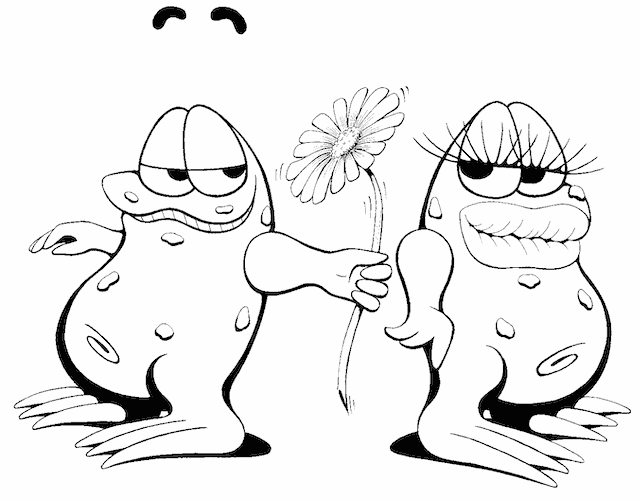 Ogga's Eyebrows
Ogga's eyebrows are not connected to him, they float above his head. But even though there is no physical connection between Ogga and his eyebrows, they can't get too far away from each other. This leads to some interesting situations: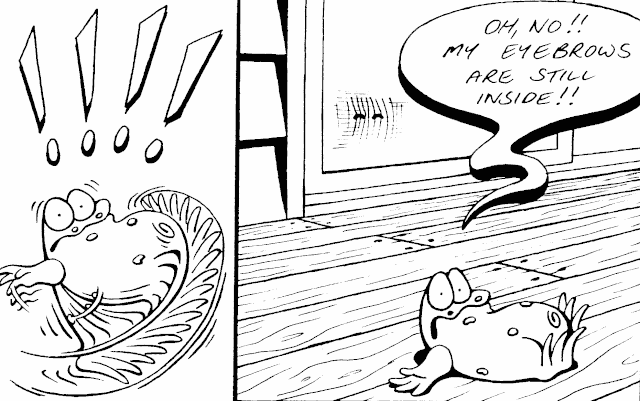 Lex the Seagull
Ogga has a friend, Lex.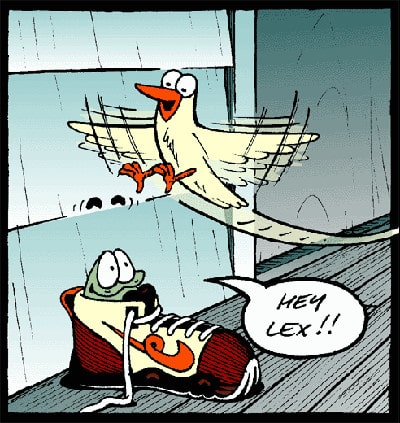 Super Ogga
When Lex picks up Ogga by his eyebrows and flies away, Ogga becomes Super Ogga! This is how Ogga flies.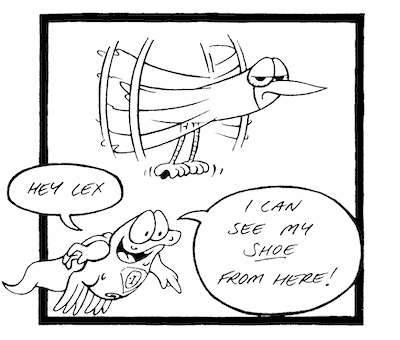 James
James is the owner of Ogga's shoe. He's a surfer too.
Sometimes they will surf together and Ogga will stand on the end of James's board.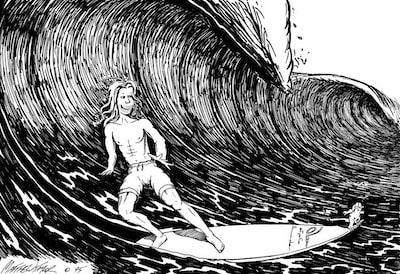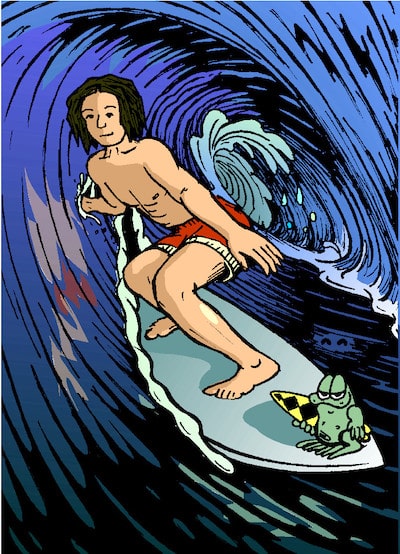 James's House
This is James's house, it's right on the beach.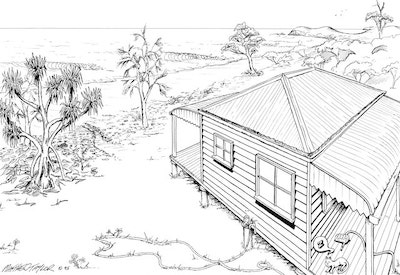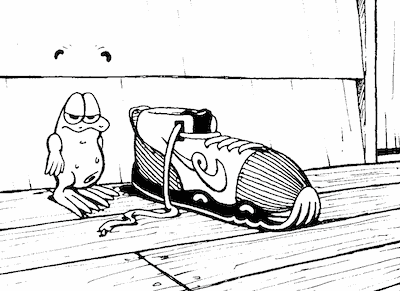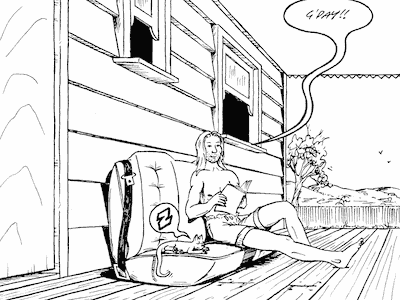 Ogga's shoe is normally on the back verandah of James's house... because it's James's shoe.
James has an old car bench seat on his back verandah to use as a couch, it still has the seatbelts attached!
Ogga Evolution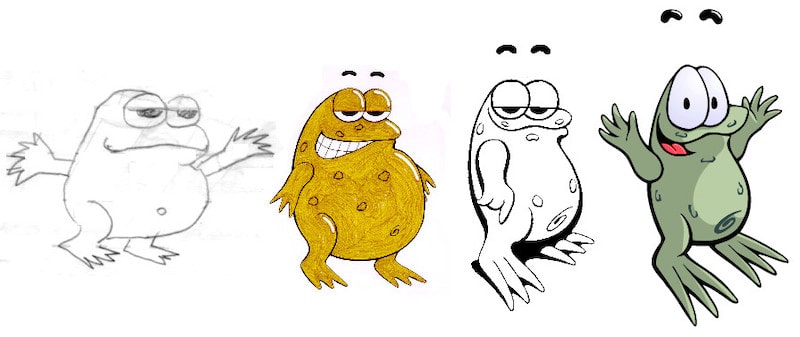 You may have noticed that Ogga looks different in some of these illustrations, that's because he has evolved a lot over the years.
The two main changes are:
Egg-shaped eyes: because this allows for more extreme expressions.
Longer arms and feet: so he's more capable of picking up things, etc.
Ogga is a 2D character. This means he doesn't exist in 3D. One limitation of this is you can't draw him from exactly front-on. Believe me, I've tried!
So that gives you a good overview of the Ogga the Cane Toad comic strip, the characters, and the setting.
"I've been creating art all my life and running this website since 1997! During this time I've found many amazing tools and services that I cannot live without."
— Matthew James Taylor
I highly Recommend: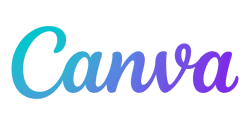 Canva — Best Graphic Design Software
Create professional graphics and social media imagery with an intuitive online interface.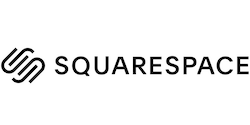 Squarespace — Best Website Hosting For Non-Developers
Easy-to-edit website templates, no coding needed. Full commerce and marketing features to run your business online.
See more of my recommended design tools.