Table of contents
Space is a commodity in any home. Whether that's a big home that needs to fit a large family or a small home where every square foot makes a significant difference. How you divide up the space of your home is an important choice. So, you may find yourself asking 'do hallways really deserve so much precious space in my floor plan?'
A house without hallways can have bigger and more useful rooms with the same floor area, but this can cause bedrooms to become less private and noisy if you don't use a clever design and good soundproofing. If you can't eliminate hallways make them multifunctional spaces to increase their usefulness.
In this article, I will explore the use of hallways, when they can be eliminated, and what you can do to make them more useful spaces when you can't.
Are Hallways a Waste of Space?
A hallway can be considered a waste of space if:
It's possible to eliminate the hallway from your plan while still maintaining practical access to all rooms, and
If the reclaimed floor space can be put to better use within other rooms.
For larger houses with many rooms, it may not be possible to design a floor plan with no hallways, in this case, the hallway is not considered wasted space.
For smaller houses, it's often possible to eliminate all hallways because there are fewer rooms that need to be accessible. Smaller houses also benefit from reclaiming the hallway area because total space can be severely limited.
Can You Completely Eliminate Hallways?
A common alternative to hallways is directly connected rooms. This can be great for small houses with a limited floor area but it's a good idea to think carefully about how it will work for you and those you live with.
There are several advantages for eliminating hallways:
The floor space of the eliminated hallway can be added to other rooms increasing their total size and making them more useful.
There is less walking distance between rooms
Eliminating hallways that are connected to common living areas will reduce your heating and cooling costs.
Without hallways, it can be easier to navigate through the house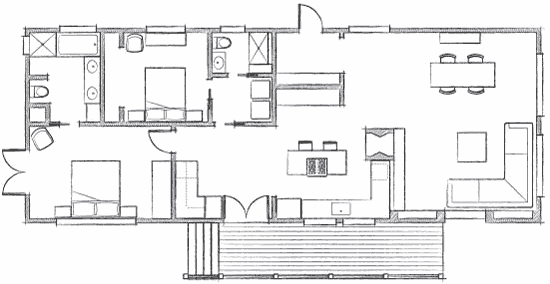 Small houses benefit from much more than reduced energy costs, see my article 12 Small House Benefits to see why building tiny makes so much sense.
There are also reasons why you may prefer a separation between bedrooms and common living space. Bedrooms that open directly onto the living space:
Offer less privacy.
Can be noisier for people to sleep when the common living space is in use.
These two negatives can be solved by adding a small alcove so the bedroom door opens perpendicular to the living space (effectively a very short hallway) and increasing the insulation within the walls and door of the bedrooms to block more noise.
As you can see, there are scenarios where added hallway space is useful and scenarios where zero hallways are more sensible. Think about the space you have and the common activities in your home to decide where hallways are useful and how much space they need to be fully utilized.
Hallway space in many homes goes unused for anything besides walking through, but that does not have to be the case. Careful consideration during designing and decorating your house can give hallways added life and use!
Make Hallways Multifunctional
Hallways can actually function in quite a few different ways, making them productive and helpful spaces, rather than feeling like a waste of space.
Turn a hallway into a buffer from outside, like a mud room
A hallway at an entrance to the home can serve more than just the function of leading in guests. If you live somewhere with harsh winters, sweltering summers, or both, a hallway can be a good way to keep the internal temperature stable even when the door is opening and closing all day.
This is a good consideration to make if you have a big family who is coming and going throughout the day or dogs who need to be frequently let out.
Use a wide hallway as a room
Sometimes instead of a narrow hall, you can open the space to make a common area connecting different rooms. For example, if you're thinking of putting a hallway from the back door to the rest of the house, can you instead make a small mud/laundry room?
This space would be a great place to put a big sink for cleaning up after a day of yard work or having children wash hands after playing outside. You can include your washing and drying machines for regular use, but also to neatly deal with dirty clothes from outside before they track anything into the home.
Space overall serves as a small room with a purpose, which may be more worth your while than just a hallway.
Using Decoration to Make the Most of Hall Space
Hallways often sit empty and undecorated, this way they can certainly seem like wasted space, but they do not have to be. Try using décor and stylistic choices to add to the usefulness of your hallway space.
Use hallway space for extra storage
Adding bookshelves, tables, or wall shelves to a hallway can be the answer to your clutter and storage problems! This requires a wider hallway to avoid being cumbersome or in the way of anyone passing through. If your hallway is wide enough, adding storage can change how you think of hallway space.
By nicely arranging things like keepsakes, knick-knacks, books, picture frames, or other items, your hallways can look nice, show off your or your family's personality, and be a functional storage space.
Create a gallery wall with the wall space
By filling the walls with meaningful pictures or art prints you can make the hallway a conversation point and an important part of your home. This is great for hallways that lead guests into the home and immediately shows off your personal style.
While this does not necessarily add functionality to the home, it can make you feel as though the space is better used. If you find yourself commonly enjoying the decoration and taking the time to look, it makes that space a more valuable part of your home.
Build in a bench for a cozy nook
At the end of the hallway is the perfect place to build a bench and add some cushions for a cozy nook. This can bring added function to your space, but even if not used, it simply looks nice and adds life to the hallway.
The bench can be a good spot to read a book, for pets to sit and enjoy, or to sit and put on shoes before heading out.
If you have or can add, a big window this really opens the space and makes it look even nicer.
...
If you are in the process of designing a floor plan, how you will decorate may seem like a task to save for later, but it can change how you see and use the space. Think about decisions like these in case they change your mind on how valuable or wasteful extra hallways space is. These ideas can help anyone who feels they need more hall space than they would like to make it a valuable part of their home and something they can enjoy.
Take Away
The question "are hallways a waste of space?" is objective and lacks a definitive answer. That is because everyone has unique preferences and needs in their home to match their unique lives and living arrangements. Is there a more sensible use for the hallway space? Or can you make better use of the hallway room somehow?
Imagine your daily life and how it will affect the routines in your house. If you want hallway space, there are plenty of ways to use it wisely! If you prefer to minimize hallways space, that is your choice as well. Hallways will serve some function in most large homes, and as long as you enjoy and use the space it is not a waste!
Minimizing hallways is an excellent trick to use when designing small houses, see more ideas in my article 13 small house design principles (the illustrated guide).
Title image by Fiskarhedenvillan